[See all Postcards | See all Teamsheets]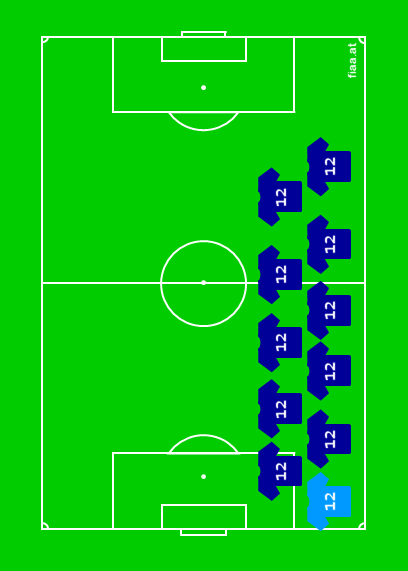 Ein etwas kurioser Anblick für die Fußballfans rund um den Globus und den 60.000 Zusehern live vor Ort im Tianhe Stadion von Guangzhou. Beim Saison-Vorbereitungs-turnier der Champions tauscht Trainer Whitehead nach enttäuschenden ersten 45 Minuten seine gesamte Startformation aus. In der Halbzeitansprache brüllte er Ohrenzeugen zu folge in der Kabine "Das ist nicht mein Team!".
Die Ersatzspieler nehmen am Platz ihre gewohnte Position ein. In zwei Reihen entlang der rechten Spielfeldlinie. So können sie auch alle Traineranweisungen verstehen. Clever gemacht.
Doch werden sie mit dieser Taktik das 0-0 halten können?
The postcard
We do not currently sell postcards direct to the public, but please contact us if you are a business, museum, gallery or store.
Postcard preview (note that for reasons of space the actual postcard text may differ to the above):