[See all Postcards | See all Teamsheets]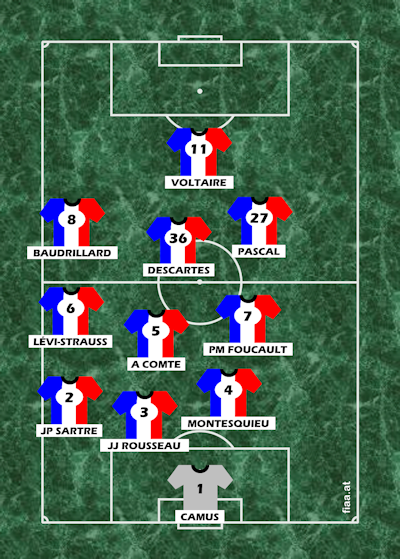 Die etwas linkslastige Grundformation der Französischen Philosophen und die damit einhergehende Lücke auf der rechten Flanke macht sie natürlich besonders anfällig bei Gegnern, die ihrerseits über einen extrem gefährlichen linken Flügel verfügen, was wiederum zu Strukturdebatten auf der linken Seite der Franzosen führt, wobei sich die Herren mit Rückennummern 2, 6 und 8 zunächst die existenzialistische Frage stellen, ob es grundsätzlich möglich ist am Spielgeschehen überhaupt mitwirken zu können, oder ob das Sein das Tun nicht schon dermaßen determiniert, dass deshalb die linke Out-Linie nicht verlassen werden dürfe. Unterdessen spottet Voltaire über Pascals ständiges Verzetteln in Dribblings. Zudem feuert er sarkastische Rufe in Richtung Rousseau und Montesquieu, weil sie in der Rückeroberung des Balles zu wenig energisch vorgehen würden. Diese wiederum verzweifeln am Verhalten ihres Tormannes, den Ball immer wieder weit nach rechts auszuwerfen, um so die Mannschaft zu zwingen sich besser im Raum zu positionieren. Comte wiederum betrachtet dies als Fortschritt und möchte den Camus'schen Auswurf zum Ziel des Spiels definiert wissen, Foucault erwidert, man könne diese Art, denn Ball ins Spiel zu bringen höchstens als Sexualdispositiv im Diskurs bezeichnen.
The postcard
We do not currently sell postcards direct to the public, but please contact us if you are a business, museum, gallery or store.
Postcard preview (note that for reasons of space the actual postcard text may differ to the above):