Any team needs the right characters and personalities to succeed – and the right mix of characters and personalities.
Football is no different.
And in football, a key factor in driving the team's success is to have enough Venus players on the pitch.
The goddess Venus represents female intuition, with divine appearance, skill and creativity, plus a powerful heart. Players categorised as Venus types are usually among the elite: they are over-represented among the world's best footballers.
As attacking players, they can use the ball in a way few others can match. In defence, they are the wall that protects the goal and their team, and are usually excellent headers of the ball.
Venus players are easily spotted on TV: they place great store on their appearance and may make feminine-like body movements on the pitch. They need not be clean shaven and hair length is irrelevant in terms of defining a Venus character. Most (but not all) tend to have none or relatively few tattoos.
One very strong indicator is the way the player wears his socks on the pitch: any footballer with socks above the knees is almost certain to be a Venus player.
Famous Venus players include Christiano Ronaldo, Neymar Jr., Gerard Pique, Sergio Ramos, Andres Iniesta, Dimitri Payet, Riyhad Mahrez, Christian Eriksen, Mezut Özil, Marco Reus, Mario Götze, John Terry, Didier Drogba and David Luiz.
As you can imagine from that list, Venus players are critical for a team's success. Without any such players, this success is highly unlikely. Equally, an excess of Venus players (particularly at the expense of pirates) is also sub-optimal and can cause teams to fail.
To end this brief overview, a little observational aside: our studies show that Venus players have an above-average propensity to miss decisive penalties. Should your team ever be involved in a penalty shootout, we would strongly advise leaving Venus players to dominate the celebrations, rather than take the actual penalties.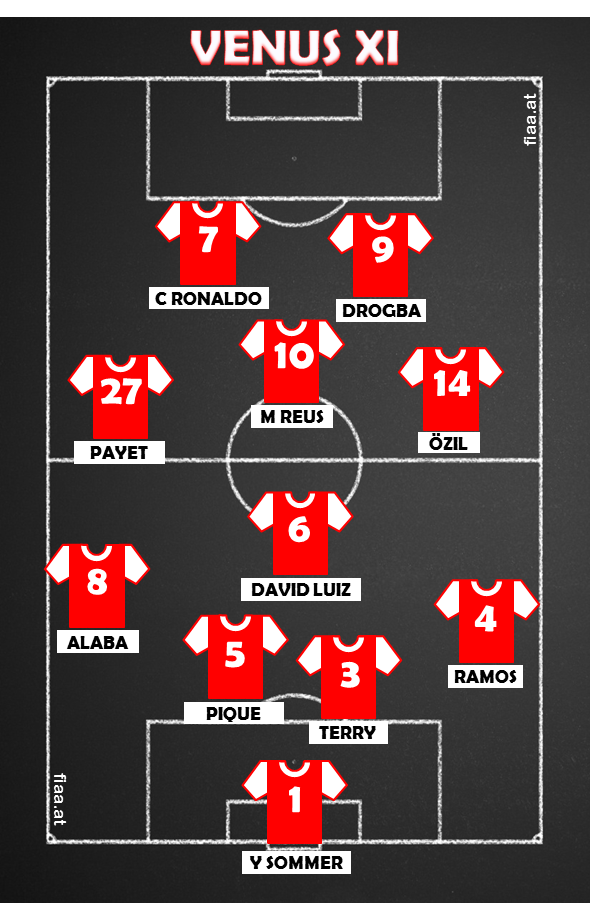 Background photo © ellisia / Fotolia