[See all Postcards | See all Teamsheets]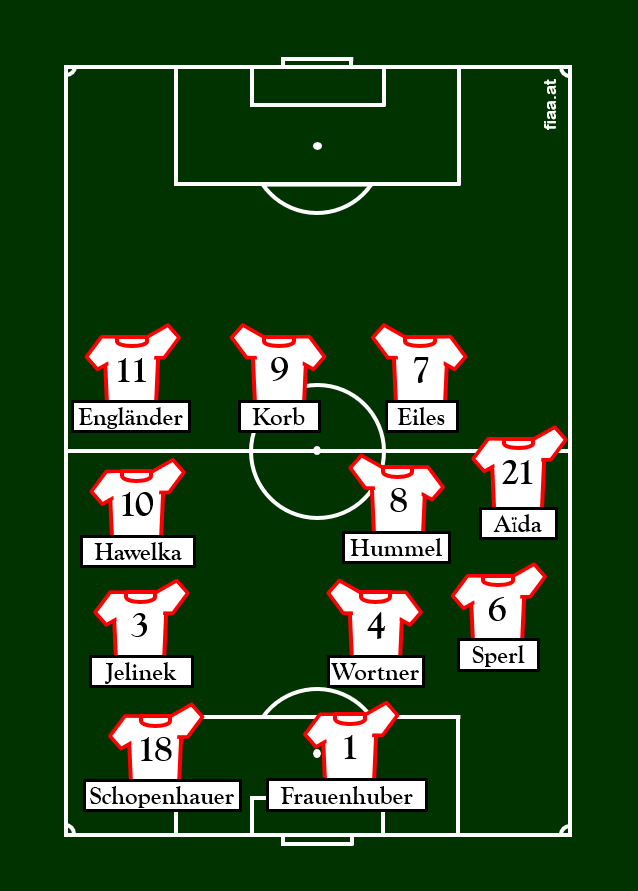 Austria Wochenschau, Juli 1955, kommentierter WM-Bericht:
"… Jelinek erobert den Ball – zu Schopenhauer – Wortner – zurück zu Frauenhuber – Frauenhuber mit starkem Abschlag auf Hawelka, Dribbling Hawelka – Hawelka zu Wortner – Sperl – Hummel – Jelinek – sehr schöner Heber in die Tiefe zu Engländer – quer in die Mitte zu Korb – hier kommt Aïda, Aïda – Hummel – Aïda – Hummel – Aïda – Hummel – Oida!!! – Ferserl zu Sperl – verlängert zu Eiles – Eiles – noch immer Eiles – legt rüber zu Korb – steigt drüber – da ist Engländer – Tor, Toor, Tooor, Toooor – und was für eines …
Busseln Sie sich ab meine Damen und Herren, wenn sie jemanden bei sich haben, busseln sie sich ab, so was hat die Welt noch nicht gesehen, das werden wir nimmer erleben! 5:4, das ist auch der Endstand, soeben pfeift der Schiri ab. Ein wunderschönes, ein phantastisches Tor, eine Kombination über 20, 30, fast 100 Stationen, nein, natürlich nicht 100, meine Kollegen rechnen das bestimmt nach, ist ja egal – das ist die Entscheidung, 5:4 – die Wiener Kaffeehäuser sind jetzt Weltmeister!"
The postcard
We do not currently sell postcards direct to the public, but please contact us if you are a business, museum, gallery or store.
Postcard preview (note that for reasons of space the actual postcard text may differ to the above):