[See all Postcards | See all Teamsheets]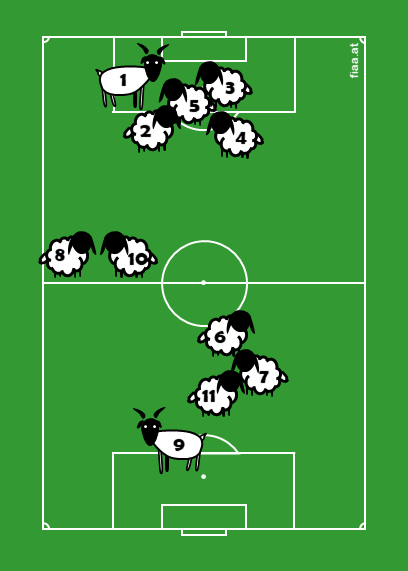 Dieses Team wird immer unter-schätzt. Die 'Antikicker von Antikithira' ist noch eine liebe-volle Bezeich-nung. Dabei ist keine andere Mannschaft so flexibel in der Grundformation. Man könnte auch sagen ihre tak-tische Ausricht-ung ist nicht vorherzusehen.  Nur die besten griechischen Hirten beherr-schen ihre Herde – taktisch wie disziplinär. *
Nicht umsonst gibt es eine Torziege und eine Mittelsturmziege im Team. Sie verfügen über eine enorme Sprungkraft, im Kopfballduell stoßen sie sich nicht so schnell ihrer Hörner ab. Da haben alle Gegner großen Respekt. Nicht wenige Mannschaften haben viel Blut gelassen oder zu unerlaubten Mitteln gegriffen.
Von den Stadionrängen hört man immer wieder, viele Fußballprofis könnten keinen Hydranten überspielen. Es ist nicht einfacher, mit dem Ball an einem Schaf vorbeizukommen. Eine grasende Schafherde ist gewissermaßen unberechenbar. Man weiß nie genau, wie sie sich bewegen, muss sie immer wieder aus der Tiefe des Raumes locken, weg von den gemütlichen Futterplätzen.
Zudem haben Schafe und Ziegen den immensen Vorteil vierbeinig zu sein. Nicht nur beidbeinig – vierbeinig! Deshalb können sie nie und nimmer (absichtlich oder nicht) mit der Hand spielen. Blöde Elfmeter bekommen sie daher selten. Früher oder später wird das ständige Meckern der Ziegen den Schiedsrichtern zu viel und so enden ihre Spiele meist mit bloß neun Feldschafen.
* Die abgebildete Aufstellung zeigt die Startformation im Auswärtsspiel gegen die Griechischen Philosophen auf Kithira, wie sie Hirte Herakles übermittelt hat.
The postcard
We do not currently sell postcards direct to the public, but please contact us if you are a business, museum, gallery or store.
Postcard preview (note that for reasons of space the actual postcard text may differ to the above):